On October 25, 2021, the first public welfare safety training course sponsored by the Jiangsu Access Machinery & Suspended Platform Association was successfully held at the High-altitude Machinery Engineering Technology Research Institute Co., Ltd. This training class is aimed at training personnel for high-altitude machinery suspended platform operations, aiming to build a professional team, improve the professional skills of China's high-altitude machinery suspended platform operators, and lay a solid foundation for comprehensively improving the professional skills of workers in the suspended platform industry.
Jie Wu, president of the association and general manager of Shenxi Machinery Group Co., Ltd, and Renshan Wu, honorary president of the association, attended the opening ceremony and made speeches. More than 50 people from manufacturers, agents, and leasers in the aerial work suspended paltform industry participated in the training class. The opening ceremony was lectured by the expert Qiang Fei of the Association Expert Committee.
At the opening ceremony, Jie Wu congratulated the smooth opening of this training class, and gave a detailed introduction to the vocational skills training organized by the association and the construction of the industry's vocational skills talent team. Jie Wu introduced the development process and status quo of China's aerial work suspended platform industry, and made an in-depth analysis of the necessity of carrying out vocational skills training for aerial work machinery.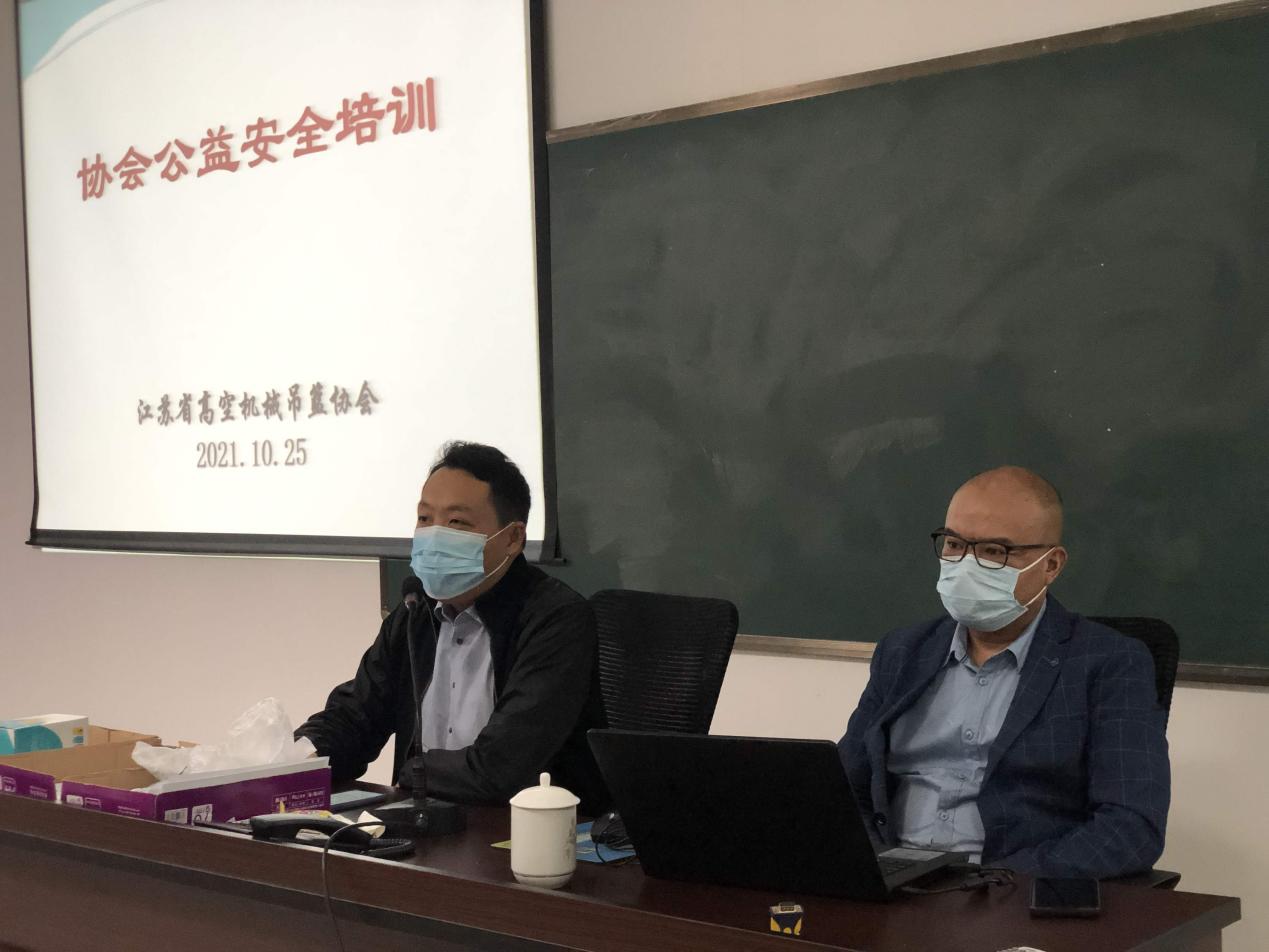 In this training class, teacher Qiang Fei focused on falling from heights and the use of safety belts. Starting from the safety concept, he gave a professional explanation of personnel protective equipment and safe operation. It was meticulous and practical. Most of the trainees received such professional training for the first time.

Renshan Wu, honorary president of the association, made a concluding speech. He emphasized that the aerial work suspended platform entered a stage of rapid development. At present, the training of the suspended platform operators is gradually on the right track. The training materials were published, the aerial work suspended platform operators were written into the National Occupational Dictionary List, and the relevant national standards were actively promoted, and a lot of preparations were made for the success of the first training class. Next, the association will actively carry out relevant training work to ensure the construction of the vocational skill talent team in the suspended platform industry.
After the training, the trainees expressed that they have benefited a lot and gained a lot. It is a rare opportunity for learning and improvement.
#chinasource #sourcechina
#chinaconstruction #construction
#chinaconstruction #Chinascaffolding
#suspendedcradle#swingstage
#ZLP #andamioscolgantes
Website:https://www.shenxi.com/Suspended-Platform
Follow us on:https://www.facebook.com/shenxi.export
My Blog:https://www.shenxi.com/news
Subscribe to my YouTube: https://www.youtube.com/SHENXIMACHINERYGROUP