Mast climbing work platform Introduction:
STC100-Single/STC100-Double are mast climbing work platform/mast climber, which can be used fast and flexibly. Due to their modular design, they are extremely efficient. Mast Climbing Work Platform: SHENXI has extensive technical and production experience on the mast climbing platform. In 2014, we won large order for 300 sets of mast climbing platforms, and the prompt delivery time and quality assurance not only gained great praise from customers, but also caused a sensation in the high-altitude industry.
Mast Climbing Work Platform Applications:
Facade work
Bricklaying Plastering
Balcony work
Window installation Bridge work
Advantages of Mast Climbing Work Platform
1) Rapid erection and dismantling
2) Can work up to heights more than 150m
3) Convenient working without obstructions from scaffold tubes or fittings
4) Time and cost savings up to 40%
5) Platform covers can be added for extra comfort
6) The length and width of the platforms can be adapted to different situations.
STC100 Mast Climber Parameter: 
| | | |
| --- | --- | --- |
| Type | Total Length of Working Platform | Rated Capacity of Platform |
| Single mast | 2.8m | 1600kg |
| | 4.2m | 1500kg |
| | 7.2m | 1200kg |
| | 8.8m | 1000kg |
| | 10.2m | 800kg |
| Double Mast | 8.4m | 3000kg |
| | 12.2m | 2600kg |
| | 14.4m | 2400kg |
| | 17.6m | 2000kg |
| | 20.6m | 1700kg |
| | 23.6m | 1400kg |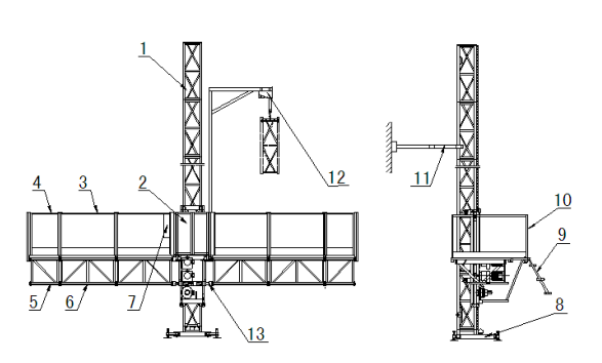 Main Parts: 
(1) Mast Section         (2) Drive Unit     
(3,6) Long Platform    (4,5) Short Platform 
(7) Electrical Control System         
(8) Base Frame         (9) Ladder
(10) Side Frame        (11) Tie In
(12) Electrical Lifting Winch             
(13) Self-balance Device
Mast Climbing Work Platform Project Overview: 
SHENXI Mast Climber Introduction:
Mast Climber Installation: 
Leading Mast Climber Manufacturer
Shenxi machinery Co., Ltd, 

established in 1988

, is one of the domestic leaders in mast climbing platform industrial. We are dedicates to designing and manufacturing a wide range of suspended access equipment, such as suspended platform, mast climber, construction hoist and loading platform etc. 
At Shenxi, we clearly realize that quality is the life of a company. In order to provide better suspended access equipments, we employ experienced technicians, import advanced equipment and implement strict quality control. We now have over 30 Shenxi offices and branches which serve over 70 countries and regions around the world.
International Certification
Shenxi Machinery, due to the high quality of our suspended platforms and the commitment of our employees, we have managed to obtain various certificates that can assure customers that they are cooperating with leading manufacturers in the industry. Below, we can see the ISO quality system certification, CE, EAC products' international certification; SGS, BV, TUV and other third-party international institutions auditing and certification of our company; Customs Authorized Economic Operator (AEO) certification, which helps move your freight delivers priority customs clearance treatment, faster, more efficient shipments, as well as enhanced security.
These certificates can provide excellent performance and most importantly safety for operators and materials.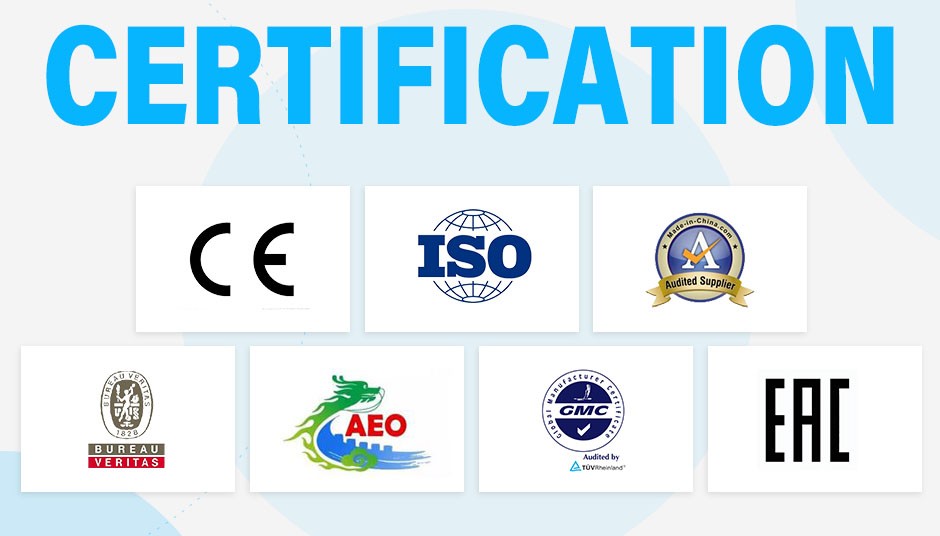 TRUSTED BY
We hope to co-operate with customers worldwide and welcome to contact us and visit our factory, who has more than 30+ years of experience in developing and manufacturing all kinds of construction machinery used in high-rise building such as suspended platform, construction hoist, mast climbing work platform, loading platform, material hoist and custom suspended platform.