Mast climbing work platform Introduction:
STC100-Single/STC100-Double are mast climbing work platform/mast climber, which can be used fast and flexibly. Due to their modular design, they are extremely efficient. Mast Climbing Work Platform: SHENXI has extensive technical and production experience on the mast climbing platform. In 2014, we won large order for 300 sets of mast climbing platforms, and the prompt delivery time and quality assurance not only gained great praise from customers, but also caused a sensation in the high-altitude industry.
Mast Climbing Work Platform Applications:
Facade work
Bricklaying Plastering
Balcony work
Window installation Bridge work
Advantages of Mast Climbing Work Platform
1) Rapid erection and dismantling
2) Can work up to heights more than 150m
3) Convenient working without obstructions from scaffold tubes or fittings
4) Time and cost savings up to 40%
5) Platform covers can be added for extra comfort
6) The length and width of the platforms can be adapted to different situations.
STC100 Mast Climber Parameter: 
| | | |
| --- | --- | --- |
| Type | Total Length of Working Platform | Rated Capacity of Platform |
| Single mast | 2.8m | 1600kg |
| | 4.2m | 1500kg |
| | 7.2m | 1200kg |
| | 8.8m | 1000kg |
| | 10.2m | 800kg |
| Double Mast | 8.4m | 3000kg |
| | 12.2m | 2600kg |
| | 14.4m | 2400kg |
| | 17.6m | 2000kg |
| | 20.6m | 1700kg |
| | 23.6m | 1400kg |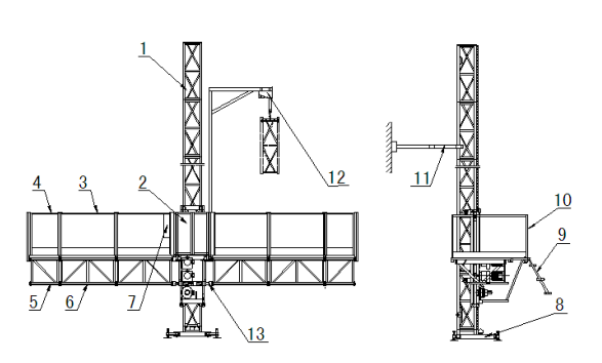 Main Parts: 
(1) Mast Section         (2) Drive Unit     
(3,6) Long Platform    (4,5) Short Platform 
(7) Electrical Control System         
(8) Base Frame         (9) Ladder
(10) Side Frame        (11) Tie In
(12) Electrical Lifting Winch             
(13) Self-balance Device
Mast Climbing Work Platform Project Overview: 
SHENXI Mast Climber Introduction:
Mast Climber Installation: