Wuxi City in Jiangsu province,located in the north area of China, is the production base of suspended platform. The local factories have more technical level and production and creation capacity.
In the recent years, some new manufacturers are found in the province , mainly Shandong, Hebei, located in the South China, and develop at high speed. It breaks the pattern of manufacturers focus in Wuxi city, the North China. According to the export data of suspended platform in the year of 2018, the layout plan is as following: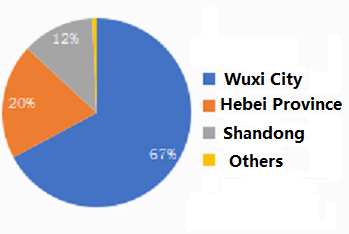 The main brands are shown in the following table.

We can find in the table, there are over 4 trading companies (No.3.4.5.7). Some years ago, mainly the manufacturers exported the suspended platform. It signifies a new trend.
At the same time, we can find there is another development trend for the traditional manufacturers . Their products become diversified. Take our Shenxi for example. You can find the following photos of our old logo and new logo. For the new one, we highlight our brand name and it is taken on the new meaning according to the requirements of sustainable development. "S" means the products hang by steel wire rope, such as suspended platform. The shape of "H"looks like the mast section. It is on behalf of the construction hoist/elevator/lift, building hoist, mast climbing work platform/mast climber, material hoist. "E" means erection and it represents the products such as crane. It is a trend for the suspended platform companies to carry out the diversified development and realize the companies sustainable finally.