Suspended Platform Introduction:
ZLP series Temporarily installed suspended access equipment developed and produced by SHENXI Company is an electric climbing type decoration machine, which is mainly applied to the external wall construction, decoration, cleaning and maintenance of high-rise and multi-storey buildings. It can also be applied to elevator installation, large tanks, bridges, dams and other engineering operations.
Shenxi is a leading suspended platform manufacturer in China and with high reputation worldwide. ZLP suspended platform is an ideal equipment for building facade construction, decoration, cleaning and maintenance, which are used for international projects such as Dubai Khalifa Tower, Jakarta Mandarn Oriental Hotel, Guangzhou TV Tower and Bejing CCTV.
Suspended platform is a kind of high attitude/high access construction machinery, it has different name in different countries. It is called San treo gondola in Vietnam and called andamios colgantes electricos, plataformas suspendidas in Spanish countries, such as Spain, Chile, Peru, Colombia, Argentina and so on.
Pls visit Spanish content on
andamios colganates.
Suspended Platform Access Equipment

How to Install Shenxi ZLP630 Suspended Platform?
How to judge the quality of suspended platform?
In the market, you can find lots of suppliers of suspended platform with different kinds of price. But almost the specification of all seems are the same, no matter low or high price. It makes the clients very confused. So it is quite important to know how to judge the quality of suspended platform through different price levels.
Our Shenxi company with over 30 years history and experience, feel honored to give you some suggestions as following for the judgement. At the same time, we hope it helps you to find out what price deserves what quality.
For more: https://www.shenxi.com/detail/32.html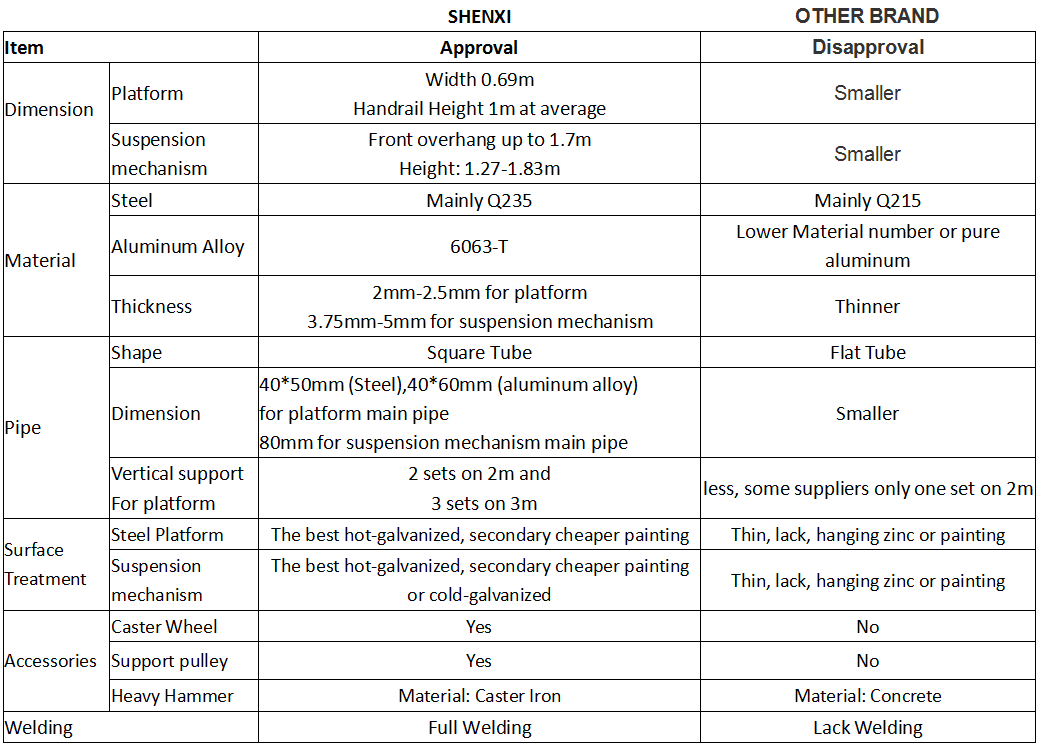 Customer greetings from UAE
Customer greetings from different countries