Retractable Loading platform Introduction:
Loading platform is used to transfer cargo and materials to upper floors during the floor construction of high-rise buildings. It is fast and easy to assemble, safe and flexible to use, suitable for the buildings under tower crane construction, therefore it is an indispensable material-transferring equipment for modern high-rise buildings' construction.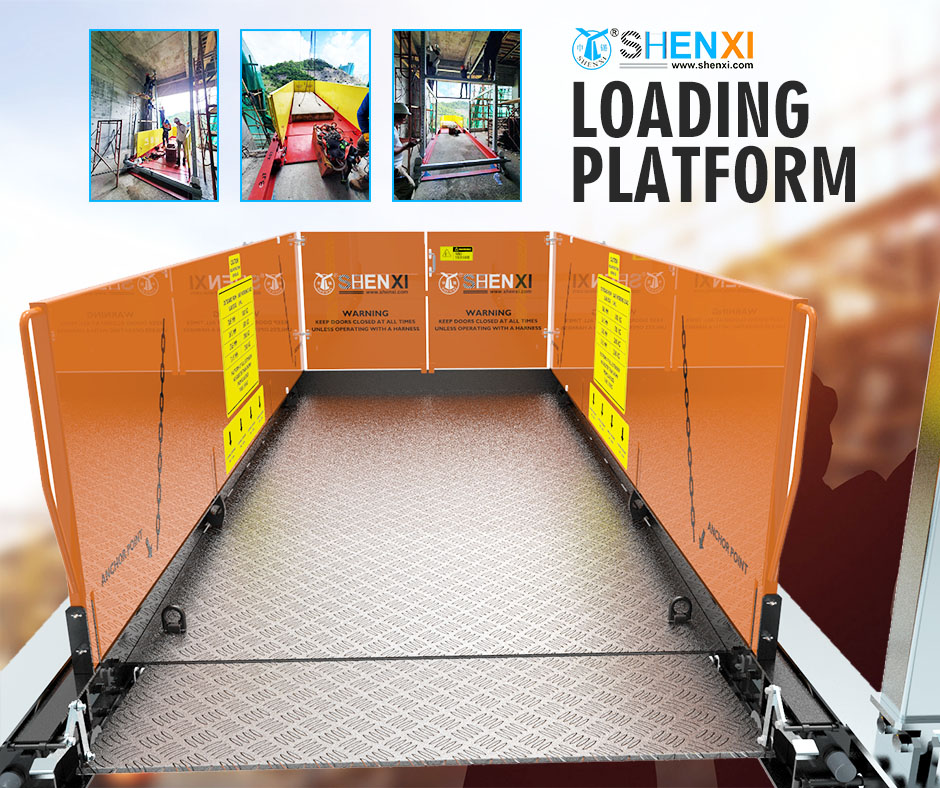 Parts Introduction:
It consists of adjustable support prop, stationary frame, retractable platform, guardrail, safety door etc. The stationary frame is located on the floor slab of the building and a "H" frame in stationary frame is kept close to the slab edge; the movable deck rolls in or out on the stationary frame by the rollers fixed in the stationary frame and movable deck. To receive the material, rolls the movable deck out of the building edge. If don't use the platform, retract the deck back. The adjustable props support the platform between the two floors by transforming the load to the ceiling. Besides of above parts, there are the deck locking pin to lock the movable deck, side panels with safety lanyard line and door adjustment, front end doors with door lock, safety chain for longer loads. A foot operated leveling ramp is provided to allow the trolley roll up the deck. 
SLD series Retractable Crane Loading Platforms have four types: SLD 2200-L, SLD 2200-H,  SLD 3200 and SLD 4200 and the allowable maximum load capacity for uniform distribution load is 5t. The most popular model in our company is SLD2200, which has light type and heavy type. The largest capacity for both is 2500kg and 5000kg respectively. The standard props allow a minimum height of 2400mm and a maximum height of 3300mm. Consult your dealer or SHENXI for other special requirements. We can design special props according to your requirements. Furthermore, SLD 2200-L, SLD 2200-H, SLD 3200, SLD 4200 can also be fixed to the concrete slab with bolt through slab if the customer needs. 
Retractable loading platform video: 
International Certification
Shenxi Machinery, due to the high quality of our suspended platforms and the commitment of our employees, we have managed to obtain various certificates that can assure customers that they are cooperating with leading manufacturers in the industry. Below, we can see the ISO quality system certification, CE, EAC products' international certification; SGS, BV, TUV and other third-party international institutions auditing and certification of our company; Customs Authorized Economic Operator (AEO) certification, which helps move your freight delivers priority customs clearance treatment, faster, more efficient shipments, as well as enhanced security.
These certificates can provide excellent performance and most importantly safety for operators and materials.

TRUSTED BY
We hope to co-operate with customers worldwide and welcome to contact us and visit our factory, who has more than 30+ years of experience in developing and manufacturing all kinds of construction machinery used in high-rise building such as suspended platform, construction hoist, mast climbing work platform, loading platform, material hoist and custom suspended platform.