Temporary Suspended Platforms (TSP) Introduction: 
A suspended platform incorporates a steel or aluminum platform that can be raised or lowered when in use. Other frequently used terms are 'suspended cradle' and 'swing stage platform. They can be assembled from scaffolding. The suspended platform is an efficient modern overhead operation equipment that can replace traditional scaffolding and reuse. General suspended platform hoist can be divided into manual and electric hoist. 
ZLP series temporarily installed suspended platform (ZLP630/ZLP800 suspended platform) developed and produced by SHENXI Group is an electric climbing type decoration equipment, which is mainly applied to the external wall construction, decoration, cleaning and maintenance of high-rise and multi-storey buildings. It can also be applied to elevator installation, large tanks, bridges, dams and other engineering operations. Model name ZLP630 or ZLP800 refers to their rated capacity 630kg and 800kg respectively. 
Suspended platform is a kind of high attitude access construction machinery, it has different name in different countries, such as gondola, suspended cradle in south east Asia, andamios colgantes electricos, plataformas suspendidas in Spanish countries, such as Spain, Chile, Peru, Colombia, Argentina and so on. 
Pls visit Spanish content on
andamios colganates
.
Suspended Platform Projects Overse
Shenxi is a leading suspended platform manufacturer in China and with high reputation worldwide. ZLP susepnded access platforms have any function and usage, such as suspended platform for painting, suspended platform for building facade construction, suspended platform for decoration, suspended platform for cleaning and maintenance, which are used for international projects such as Dubai Khalifa Tower, Jakata Mandarn Oriental Hotel, Guangzhou TV Tower and Beijing CCTV. 
How to Install Shenxi ZLP630 Suspended Platform? 

This video could help and guide you to understand the whole process of temporay suspended platform installation, including:

1. Chek up the number of parts and separte the parts for ZLP630 suspended platform (0:10~0:27)
2. Suspended platform suspension mechanism and counter weight installation (0:28~6:46)
3. Aluminum platform installation (6:47~8:19)
4. Suspended platform hoist, safety lock and control box installation (8:20~10:14) 
5. Put through the lifting wire rope and heavy hammer (10:15~12:05) 
6. Suspended platform wire rope installation (12:05~12:32)

7. Suspended platform operation and check after power-on (12:33~14:33)
Whether you are a distributor, wholesaler, leaser or builder, Shenxi is your best choice. Because choosing Shenxi means choosing durable products and long-term business cooperation.

Suspended Platform Hoist--Long Lasting Lifetime:Intact after 18 Years of Use
1.The casting body is made of special aluminum material and it is processed by imported processing center by gravity casting process. The product has good precision and durabilitity. Castings are more drop-resistant than die-castings and are less prone to cracking.
2.The material of the driving disc is 40Cr, weight 5.4kg, after tempering and surface nitriding treatment, it is more wear-resistant and durable.
3.The worm wheel is made of tin-phosphor bronze 9-4 copper, 0.94kg, good toughness and wear resistance. The material of the worm and gear shaft is 38CrMoA1, of which the worm is 0.48 kg, which has good toughness and wear resistance.
4.Rope guide is made of special wear-resistant stainless steel material, which is not easy to be damaged and will not cause jamming. The cost of failure is extremely low and generally does not need to be replaced.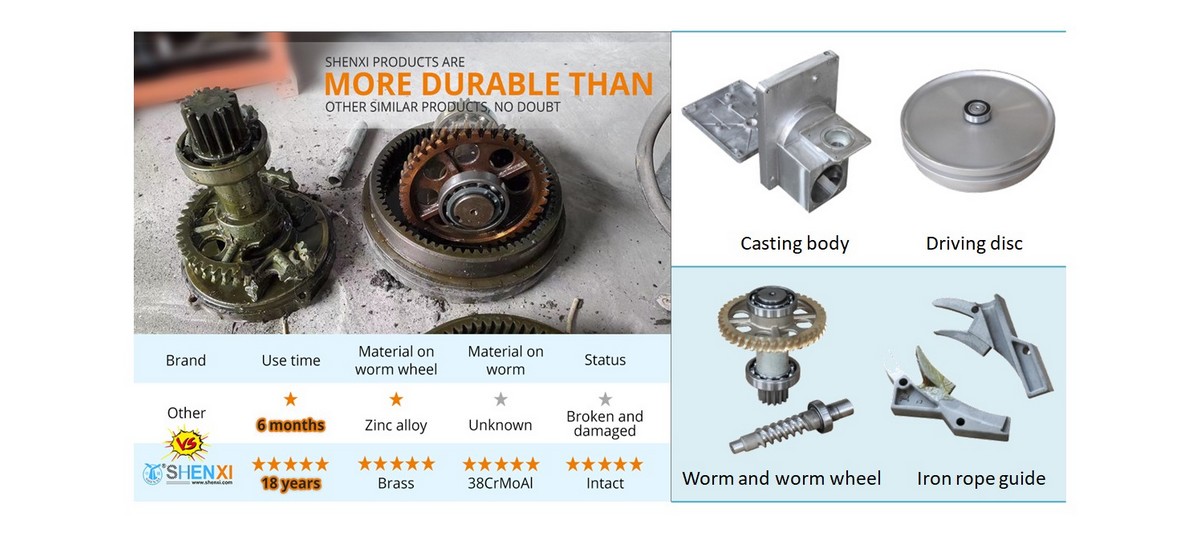 Long Lasting Cooperation: Reasons
1. 30+ years experience of manufacturing suspended platform
2. The suspended platform is used safely in 80+ countries
3. Professional foreign trade team with 12+ years average overseas sales experience 
4. 20+ engineers' team offers customized solutions on suspended platfrom
5. Overseas representitive covers Singapore, Israel, UAE, Saudi Arabia, Malaysia, Chile, Peru, Spain, Turkey, Portugal, Russia, Ukraine, Belarus, Mexico, Uruguay, Thailand, Philippines and so on, which offers better after-sales service and back up. 
6. We could offer custom suspended platforms for different countries, such as SII standard suspended platform, Singapore standard suspended platform, EAC standard suspended platform, EN standard suspended platform. 
How to Judge the Quality of Suspended Platform?

In the market, you can find lots of suppliers of ZLP suspended platform with different kinds of price. But almost the specification of all seems are the same, no matter low or high price. It makes the clients very confused. So it is quite important to know how to judge the quality of suspended platform through different price levels. 
Our Shenxi company with over 30 years history and experience, feel honored to give you some suggestions as following for the judgement. At the same time, we hope it helps you to find out what price deserves what quality. 
Suspended platform traction hoist is the most important parts on working platform.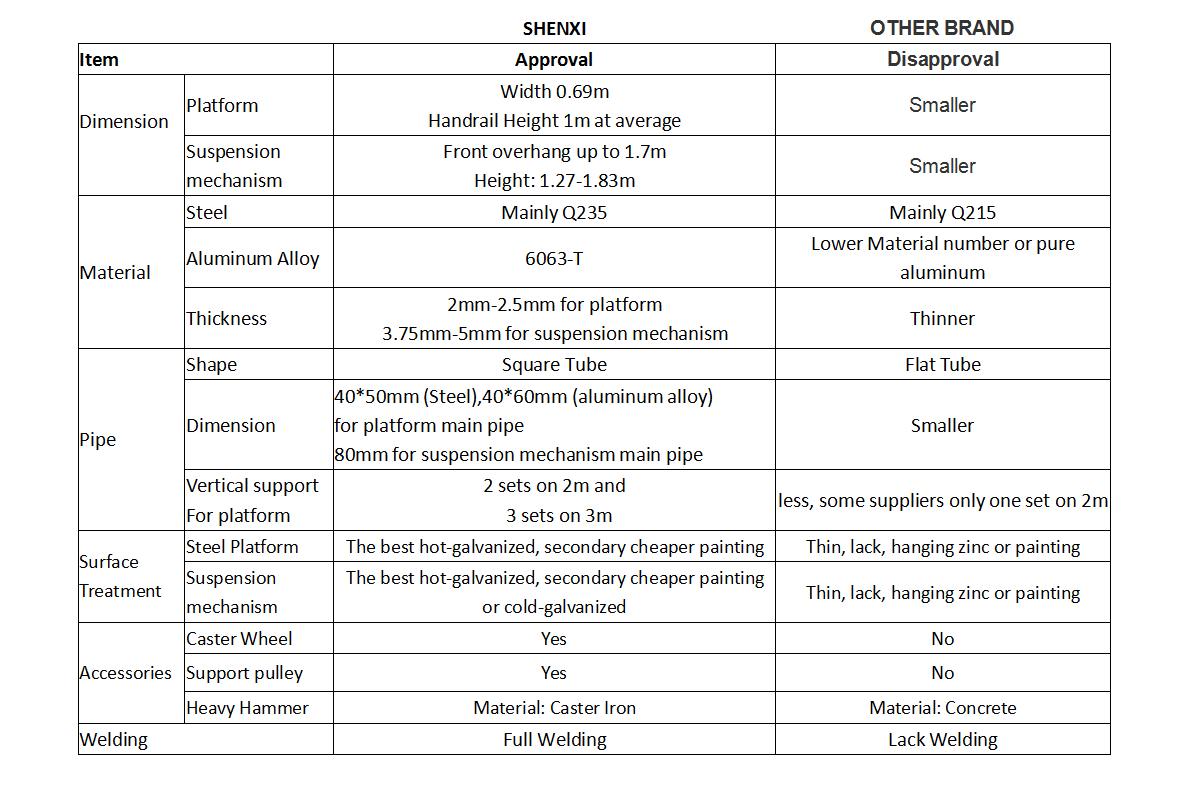 Suspended Platform Package and Shipment
LCL (less than container load) shipment packages:
1. Suspended platform hoist and safety lock will be packed together in carton and then pack on plywood pallet.
2. Loaded on a truck
3. Suspended platform hoists and control boxes are packed by plywood case.
4. platform bottom plate package
5. suspended platform hoist frame/end stirrup package
6. beam and upper colomn
7. 8 Loaded on a truck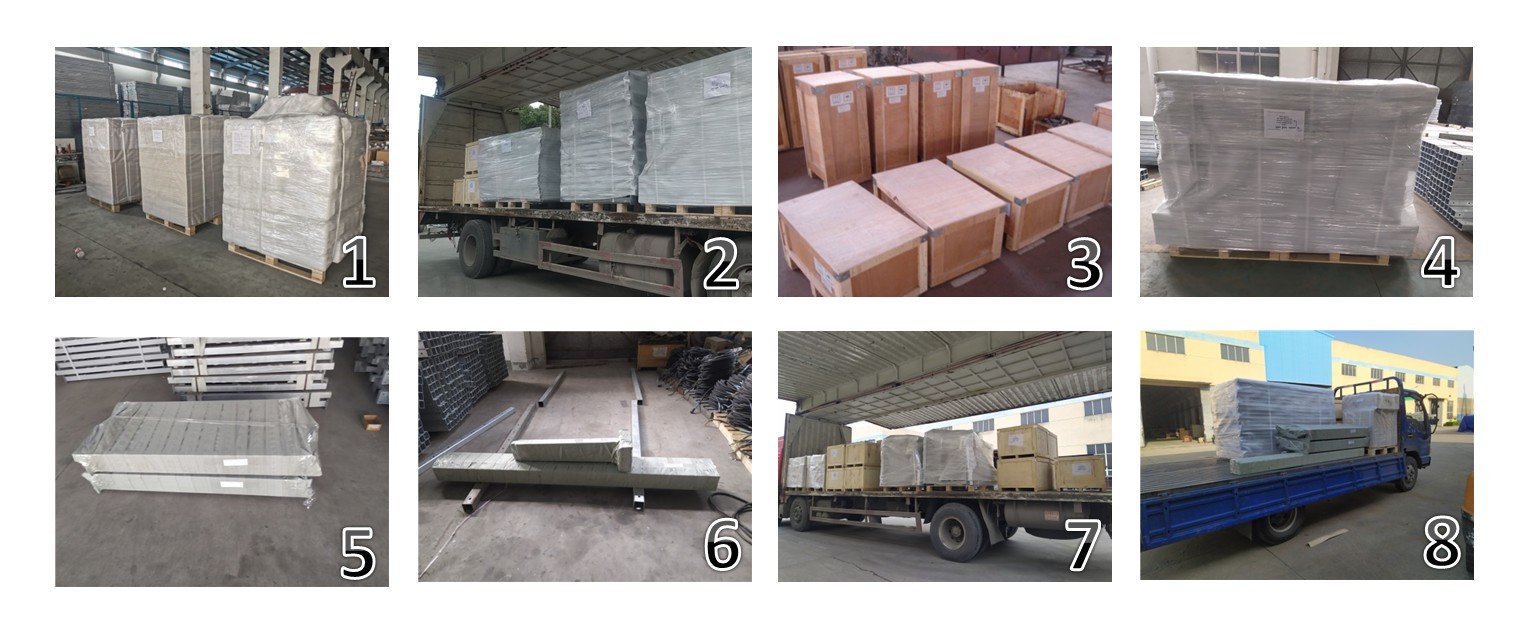 FCL (full container load) shipment packages:
1. Suspended platform hoist, control box, cable, components case load in front of container
2. Suspended platform components plywood case include heavy hammers, caster wheels, support rollers, hanging plates, reinforcing ropes and standard components for suspended platform. 
3. suspended platform hoist end stirrup/installing frame
4. platform and beams
5. 6. 7. counter weights, platform pallets in the end of the container
8. suspension mechanism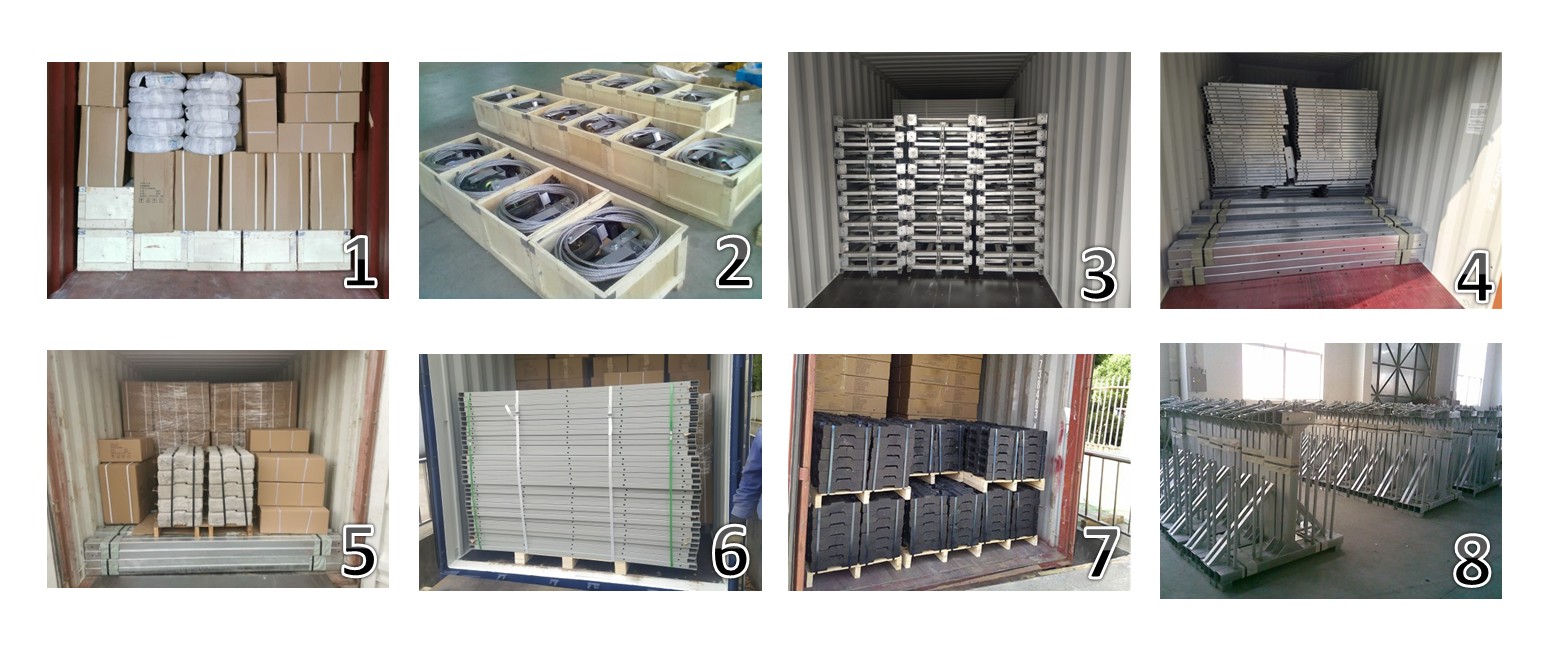 Leading Suspended Platform Manufacturer
Shenxi machinery Co., Ltd,

established in 1988

, is one of the domestic leaders in suspended platform industrial in China. We are dedicates to designing and manufacturing a wide range of suspended access equipment, such as suspended platform, model zlp630 and zlp800 is most popular models. 
At Shenxi, we clearly realize that quality is the life of a company. In order to provide better suspended access equipments, we employ experienced technicians, import advanced equipment and implement strict quality control. We now have over 30 Shenxi offices and branches which serve over 80 countries and regions around the world.
Factory overview will show a real factory in front of you, which includes: 
showroom (projects and qualification)
Welding workshops
Hoist product workshop
Quality checking
Electrical workshop
Warehouse
Shipment